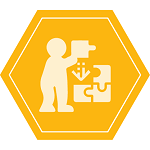 I
INTEGRITY
Employ high etical standard, demonstrating honesty and fairness
C
COLLABORATE
We believe coming together is beginning. Keeping together is progress. Working together is success.
A
ACCOUNTABILITY
Responsibility for our decision and actions
R
RESPONSIVE
Being swift attitude to ensure the best service response and service level to out business partner.
E
EXCELLENCE
Striving for the best in every aspect of the business solution.